Our specialists at the Center for Gastroenterology & Metabolic Diseases offer the highest quality of care for a wide spectrum of diseases and disorders affecting the gastrointestinal (GI) tract, which includes the esophagus, stomach, liver, gallbladder, bile ducts, pancreas, intestines, colon and rectum.
Common conditions treated:
Cancers of the digestive system
Gastroesophageal reflux disease (GERD) (Barrett's esophagus)
Heartburn/reflux
Swallowing and esophageal disorders (achalasia)
Abdominal pain
Gallstones
Biliary stones, stricture and leaks
Pancreatitis
Peptic ulcer disease
Inflammatory bowel disease (IBD)
Celiac disease
Diverticular disease
Tumors and growths of the digestive system
Intestinal obstruction
Cirrhosis of the liver
Hepatitis (A, B, C, D and E)
Screening for colon cancer
NASH—nonalcoholic steatohepatitis
Anorectal disease (hemorrhoids, anal fissure, anorectal abscess and fistula)
Providers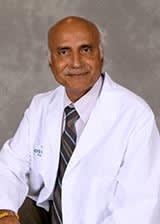 Dr. Ajoy Roy has been practicing gastroenterology care for the more than 30 years in Oswego County. He earned his medical degree from Patna Medical University in India. He completed his fellowship at Yall University Medical School and is board-certified.
Dr. Suri Karthikeyan has nearly 30 years of experience treating a variety of gastroenterology diseases in addition to performing advanced endoscopy procedures.
Earning his medical degree at Madras Medical College, located in Chennai, India, Dr. Karthikeyan has quite an extensive clinical background including Resident in Internal Medicine at various NHS hospitals in the UK and obtained specialist certification in Internal Medicine, MRCP(UK) by the Royal College of Physicians of the United Kingdom, followed by Residency in Gastroenterology in Leicester.
Subsequently he pursued an Internal Medicine Residency and Gastroenterology Fellowship at McMaster University in Ontario, Canada, and obtained specialist certifications in Internal Medicine and Gastroenterology, FRCP(C) by the Royal College of Physicians and Surgeons of Canada followed by board certifications in Internal Medicine and Gastroenterology by the American board of Internal Medicine.
For the past 26 years, he has been in private practice in both New London, Connecticut, and Rochester, NY from 2001-2020. In addition to clinical work, Dr. Karthikeyan has been very involved in teaching medical students and medical residents at the University of Rochester and Unity Hospital of Rochester. Dr. Karthikeyan is board certified in Gastroenterology and is a member of American College of Gastroenterology.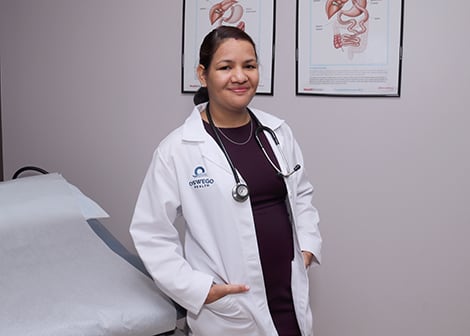 Rewati Bhattarai, MSN, NP-C earned her Bachelor of Science in Biology in 2015 at Syracuse University. In 2017 she attended Utica College for their Accelerated Nursing Program to earn her BSN before completing her MSN in 2020 at SUNY Upstate.
With a well-rounded clinical background, Bhattarai has previously held positions as a Nurse Practitioner at Sodus Rehabilitation & Nursing Center, and as a Registered Nurse in the Transitional Care Unit at SUNY Upstate.