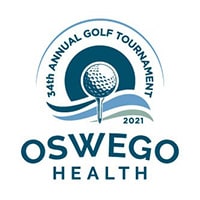 The 34th Annual Oswego Health Golf Tournament held on June 7th, surpassed all expectations as 152 golfers, comprised of local businesses and friends participated to support local healthcare by raising more than $159,000.
Event winners
Winning the captain and crew event for the fourth year in a row was Ontario Lakeshore Associates, with a score of 59. Team members included Carlos Dator, Jr., Louis Castaldo, Zach Farden and Mike Palmitesso.
Right behind this team because of a tiebreaker due to the best score on handicap holes was Burritt Motors with a score of 59. This second-place team included Rich Burritt, Ryan Hawthorne, Krishna Hill and Alan Occhino.
Taking third place was Pathfinder Bank and team members were Tom Schneider, John Sharkey, Dan Dorsey, Jr. and Craig Fitzpatrick.
During the tournament, the Debbie Hicks Memorial fun prize was presented to Team Barclay. This honor is selected by a blind draw of all the teams in the non-competitive division. This prize is presented each year in memory of longtime golf tournament organizer Debbie Hicks.
Individual highlights during the tournament included straightest drive on #1 won by Sadie Moynihan and Pete Donovan, while winning the longest drive on hole #14 were Patty Schaefer and Dr. Carlos Dator Jr. There were closest to the pin won on various holes, including #2 won by Jim Schaefer; #4 won by Patty Schaefer and Ben Frary; #12 Patty Schaeffer and Dennis McCarthy; #18 won by Sadie Moynihan and Nate Bliss. Winning the putting contest was Dan Dorsey Jr. with Josh Pritchard as the chipping contest winner.
We are thankful and truly grateful for the support of our 2021 sponsors
Presenting Sponsor
Bond, Schoeneck & King
Premier Sponsor
Hayner Hoyt
Corporate Sponsors
CRA Medical Imaging
Hancock, Daniel & Johnson, P.C.
HealthWay Family of Brands
King + King Architects
Kopp Billing Agency, Inc.
National Grid
Rombough Electric
SCP Health
Awards Sponsor
Kinney Drugs Foundation/ProAct, Inc.
Oswego Radiation Oncology
Lunch Sponsor
BPAS
C & S Companies
Cart Sponsors
Aramark
Davin Healthcare
Fust Charles Chambers
Infinitt North America, Inc.
NBT Bank
Pathfinder Bank
Upstate Medical Physics
Usherwood Office Technologies
Cocktail Sponsors
FitzGibbons Agency
S.J.Thomas Co. Inc.
Clubhouse Sponsors
ASP Consulting
Century Heating
Diamond Roofing
Digital Hyve
Excellus BlueCross BlueShield
M/E Engineering
Med Care Administrators
Michael Harlovic in memory of Beverly Irene Harlovic
MLMIC Insurance Company
North Atlantic States Regional Council of Carpenters
Oswego Hospital Medical Staff
Sedgwick Business Interiors
Chris Nelson, State Farm Insurance
Green and Tee Sponsors
ConnextCare
Empower Credit Union
Fulton Savings Bank
Hannibal Pharmacy
Healogics
JP Jewelers
JTB Solutions
National Carpet and Flooring
nrg
Ontario Lakeside Associates
Oswego Quality Carpet
Patcraft
RJ Caruso Tax & Accounting
Scriba Electric
Seiter Law Firm
Siemens Industry
Spectrum Contracting
Syracuse Time and Alarm
The Bonadio Group
The Nash Group
United Iroquois Shared Services, Inc.
Universal Metal Works
Oswego Health Foundation Golf Commitee Members
Bill Blum, Pete Cullinan - chair, Kristen DeSantis, Pete Donovan, Craig Fitzpatrick, Terri Hammill, Mark Masuicca, Keri Parker and Dawn Smith.
We truly appreciate our continued partnership with Oswego Health and the value they bring to the community. This tournament is one that we look forward to every year as we know how critical this fundraising event is for the organization especially due to the recent pandemic, and we are just happy to help in any way we can.
Jeremy Thurston
Hayner Hoyt