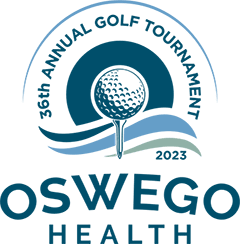 Oswego Health's Annual Golf Tournament offers players an option to play and win prizes in either the Competitive or Non-
Competitive Division. 
As a nonprofit community healthcare system, Oswego Health counts on additional support from generous donors to help deliver outstanding medical care throughout Oswego County.
Embarking on its 36th year, proceeds from the annual Oswego Health golf tournament are used to directly impact patient care and ensure exceptional healthcare services are offered in the community. In 2022, the tournament raised over $147,000 for the healthcare system.
THIS YEAR'S EVENT IS SOLD OUT! 
Area businesses or community members interested in sponsoring this year's tournament should contact the Oswego Health Foundation at 315-326-3788.
We are truly grateful for the support of our 2023 sponsors.
Presenting Sponsor
The Hayner Hoyt Corporation
Double Eagle Premier Sponsor
Barclay Damon, LLP
Corporate Sponsors
Community Bank
CRA Medical Imaging
FustCharles
King + King Architects
Kopp Billing Agency, Inc.
SCP Health
Awards Dinner Sponsors
Kinney Drugs
ProAct, Inc.
Upstate University Radiation Oncology, Inc.
Cart Sponsors
Infinitt North America, Inc.
LaBella Associates
NBT Bank
Pathfinder Bank
Titan Medical Group
Upstate Medical Physics
Usherwood Office Technology
Lunch Sponsor
BPAS
Davin Healthcare
Cocktail Hour Sponsor
C&S Companies
FitzGibbons Agency
Oswego County Federal Credit Union
SJ Thomas Commercial Contracting
Spectrum Contracting
Clubhouse Sponsors
ASF Solutions
Commercial Investigations
Diamond Roofing Co.
Excellus BlueCross BlueShield
Haylor, Freyer & Coon Inc.
Mayor Billy Barlow
M/E Engineering P.C.
MLMIC Insurance Company
Oswego Hospital Medical Staff
Rockbridge Investment Management
Step One Creative
Green and Tee Sponsors
Commonwealth Financial Group
ConnextCare
Empower Federal Credit Union
Fulton Savings Bank
GNC Interiors
J & A Mechanical Contractors, Inc.
Mohawk Medical Equiptment
North Atlantic States Regional Council of Carpenters
Nunn's Home Medical Equipment
Ontario Lakeside Associates
Oswego County OB-GYN
Oswego Quality Carpet
RJ Caruso Tax and Accounting
Scriba Electric
Securitas Security Services
Siemens Industry Inc.
Syracuse Time and Alarm
The Bonadio Group
The Nash Group
Universal Metal Works
Oswego Health Foundation Golf Commitee Members
Bill Blum, Pete Cullinan - chair, Laura Denny, Kristen DeSantis, Pete Donovan, Lynne Eggert, Craig Fitzpatrick, Terri Hammill, Linda Krackehl, Mark Masuicca, Keri Parker, Dawn Smith and John VanWert.